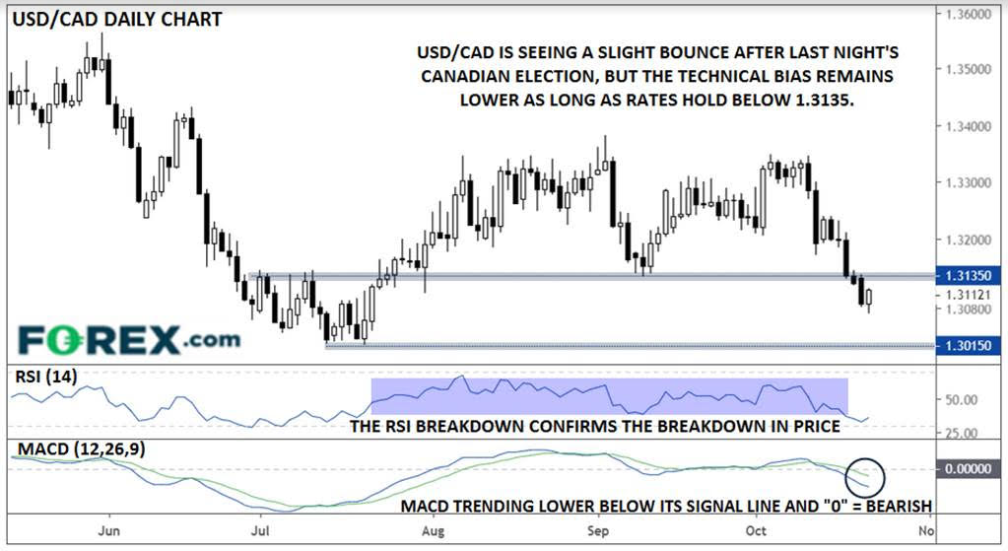 It's (still) the economy, stupid.
In Monday night's federal election, Prime Minister Justin Trudeau fought off a stout challenge from Conservative candidate Andrew Scheer to win his second term, with the generally strong Canadian economy playing a heavy role in supporting the incumbent. As we noted in last week's election preview report, the economy performed admirably under Trudeau's first term, with unemployment hitting a 40+ year low, GDP growing at among the highest rates for a developed country, and the Canadian stock market providing strong returns.
While Trudeau was ultimately victorious, he didn't emerge unscathed. His Liberal party actually lost the popular vote, as well as its Parliamentary majority, and will therefore have to form coalitions to legislate, with the pro-labor New Democratic Party (NDP) emerging as the most likely partner. There's no doubt that Trudeau's "mandate" has been weakened, but he has nonetheless vowed to pursue a left-leaning agenda focusing on social issues, deficit spending to address inequality, and aggressive environmental reforms.
Market Reaction
A narrow Liberal victory was the market's expected scenario, albeit with a heavy dose of uncertainty, so the reaction in the loonie and Canada's stock market has been relatively subdued so far. Looking ahead, Trudeau's agenda is likely to lead to further deficit spending to support social, inequality, and environmental reforms.
That said, the country has had a relatively balanced budget in recent years, with its government deficit running at less than 1% of GDP (by contrast, the US's deficit was last clocked at nearly 4% of GDP and has been rising in each of the last four years); put another way, Canada's budget could afford a dose of deficit spending, and it may serve to insulate the economy and stock market from external shocks including falling oil prices or declining international trade.
After falling nearly 300 pips from peak to trough over the last two weeks, USD/CAD is seeing a slight bounce at the start of today's North American session. As it stands, the RSI indicator is confirming last week's breakdown in price and the MACD is signaling strong bearish momentum, trending lower below both its signal line and the "0" level. Moving forward, the technical bias in the pair remains bearish as long as rates hold below previous-support-turned-resistance at 1.3135, with potential for a move down toward the year-to-date low at 1.3015 in time.